CAVALLA 2-SPEED LEVER DRAG REELS
The Cavalla 2-Speed Lever Drag reels are a compact bodied machine built to handle the toughest of conditions. This reel is built with 6061-T6 machined aluminum frame and side plates. The rigid 1 piece frame continues around to the non handle side plate. This rigid frame combined with a cold forged, type-II anodized machined aluminum spool give you a sleek and rugged weapon.
The Cavalla reels feature a battle proven carbonite drag system with Cal's drag grease that puts out 24 to 34 pounds of drag at full. The 17.4 grade stainless steel main and pinion gear as well as the CRC: Corrosion Resistance Coating process make this reel virtually corrosion resistant. Add to that 4 corrosion resistant stainless steel bearings and a silent retrieve system for complete smooth operation. The Cavalla 2-speed reels feature a 6.4:1 and 3.8:1 gear ratio on the 5 size reels and a 4.7:1 and 2.1:1 gear ratio on the 12 size. Both the 5 and 12 size reels come in left and right hand retrieve and feature an on/off bait clicker. This reel is compact and comfortable, and feature an Ergo Grip handle knob and anodized aluminum handle arm.
Model
Gear ratio
Bearings
Weight (g)
Line retrieve(cm)
Max Drag
Pressure(kg)
Mono. line capacity(mm)
Cavalla 2-Speed Reels
CAV-5NII
6.4:1 & 3.8:1
4BB
460
107 & 63
7 & 11
0.32/385, 0.37/275, 0.42/225
Technology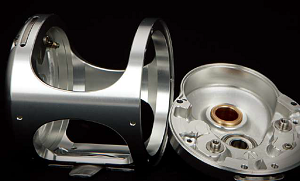 Machined Rigid Frame Construction
Okuma's Machined Rigid Frame construction incorporates a one-piece fully-machined aluminum frame. These rigid bar-stock aluminum frames are the ultimate in precision alignment and tolerances withstanding more pressure and torque than any other material used in our industry for frame materials.